Project Haleno: Gospel Hope in Timor Leste
On the small Asian island of Timor Leste, God is at work through the power of partnership. A missionary partner from Singapore named Dawn reached out to us regarding a very special endeavor called Project Haleno. 'Haleno' means 'to make shine' in the local Tetum language. This word perfectly describes the visionary interchurch efforts made by Dawn and her community to further the spread of the gospel.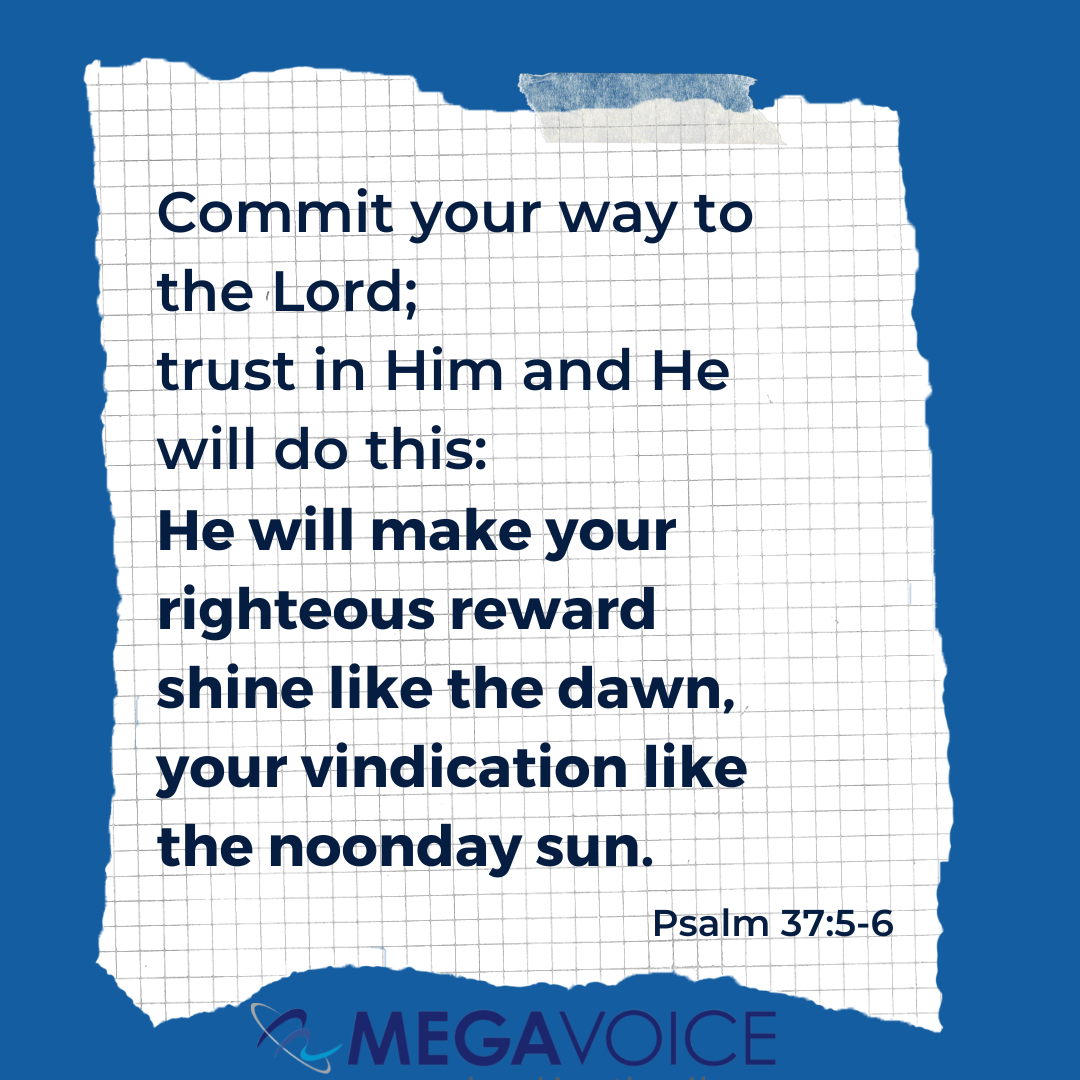 An Ambitious Lockdown Project
As a member of the Kum Yan Methodist Church, Dawn has been serving in Timor Leste since 2010. She works through St. Paul's Methodist School as a child therapist and she is part of a group called The House of Prayer TL. This group describes itself as 'a relational network of believers in Jesus Christ, made up of internationals, Timorese, businessmen, housewives, missionaries and working professionals in Timor Leste.'
During last year's COVID lockdown, Dawn and her fellow believers decided to use their newfound free time for an ambitious undertaking: the production of the first audio New Testament in the Tetum language.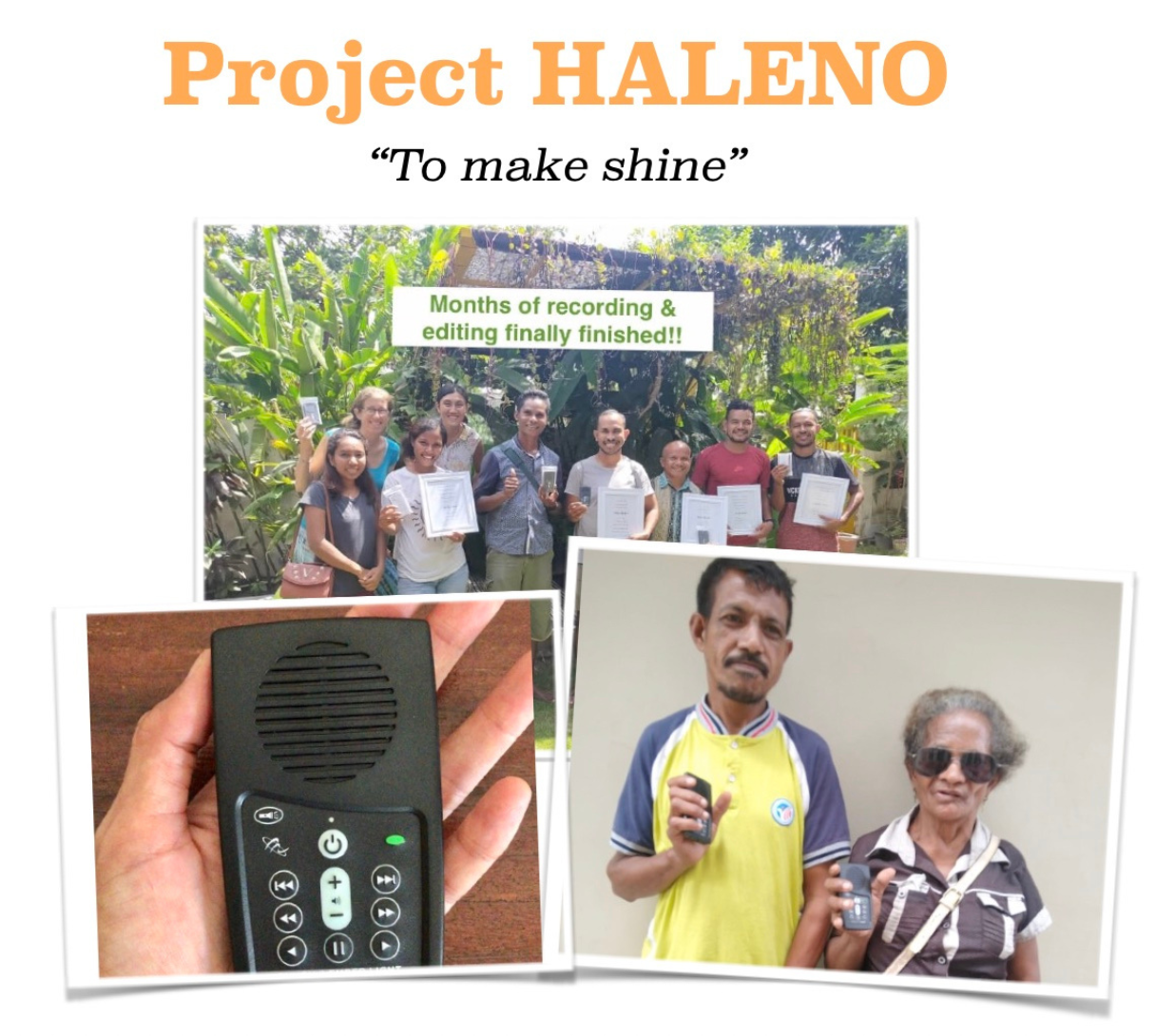 It took six months of hard work for the House of Prayer TL to record and edit all 27 books of the New Testament. In November of 2021, they completed their Tetum recording and began to look for creative ways to share it with the local church and missionary community. This is where MegaVoice had the privilege of entering the picture.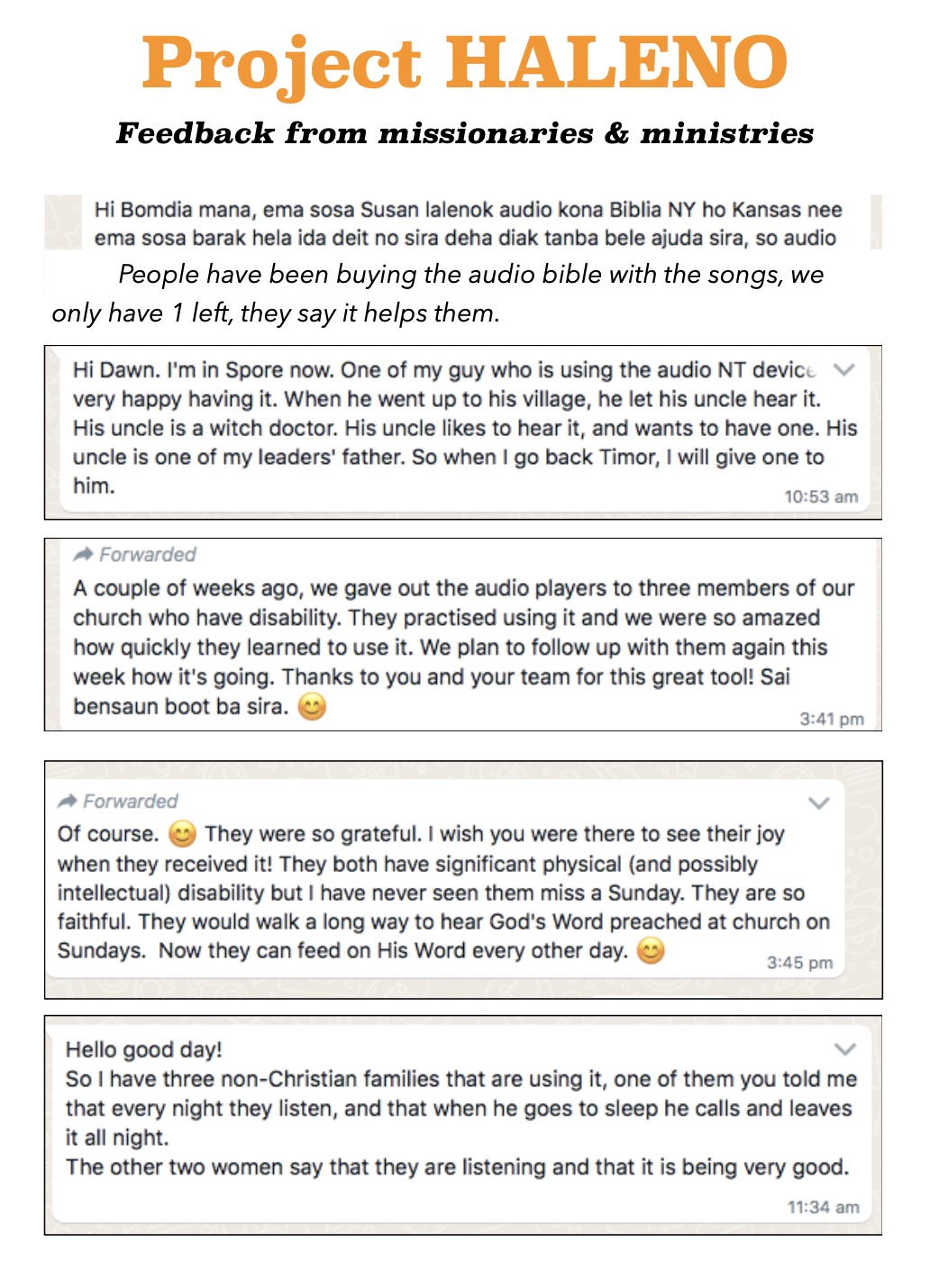 The House of Prayer TL raised funds to order 465 Envoy 2 Ember players as an initial pilot project to test local interest in audio Bibles. They loaded the audio Bibles with their Tetum New Testament, as well as worship music and other Christian resources.
According to Dawn, this pilot project was a resounding success:
I'm happy to say that the product has been adopted very well. We've had positive user feedback (see above testimonies). Anticipating demand, we are exploring bringing new devices in.
The testimonies Dawn shared paint a beautiful picture of hope and joy blooming among the Timorese people. The audio Bibles are reaching a wide audience, including nonbelievers, individuals ensnared by witchcraft, and church members with disabilities. The players are easy for everyone to use and they bring the gift of accessible Scripture, worship music, and education into listeners' everyday lives.
Project Haleno required the enthusiastic involvement of so many different people and organizations working together towards one common goal: bringing the Timorese people God's Word in their heart language. At MegaVoice, we believe in the power of partnership. When we combine our individual gifts, connections, and passions, our love for Christ can 'shine like the dawn' in communities all around the world.
Don't miss any future blog posts or news from MegaVoice!
Click below to subscribe to our email lists.
Subscribe
In Namibia, the Himba people wait for the rains that bring hope and life when a stranger with fuzzy arms drives over their horizon....

15 August, 2018

They thought they were bringing spiritual aid to missionaries in Nepal. God had even bigger plans....

12 September, 2018

We asked seasoned short-term missionaries: what are your most important tools for missions? Here's what they told us......

15 October, 2018