"All I Ask is That You Listen": How One Church is Using Pathway Players for Engaging Evangelism
If you visit First Baptist Church in Burden, Kansas, you might notice a shipping box on the floor by the front entrance. It's the latest shipment of MegaVoice Pathway players purchased by the church for anyone to use or share. In his sermons, Pastor Mike Marker occasionally reminds congregants and visitors about the box. However, these reminders are typically not needed. As God prompts, individuals take a few players at a time to give to family members, delivery drivers, and other precious individuals they encounter throughout their week.
In this rural, agrarian community, many people spend their days driving. Fortunately, the small Pathway player is a great companion during solitary hours in a vehicle. "I keep one in my pickup over the visor to listen while I'm driving, or I'll listen while I'm mowing or on horseback," said Pastor Mike.
I asked him to send me a picture of the players at his church. He was a little embarrassed by the fact that they're simply in their shipping box by the door. "That's the reality of it, though," he continued. "This hasn't been a glorified or religious thing."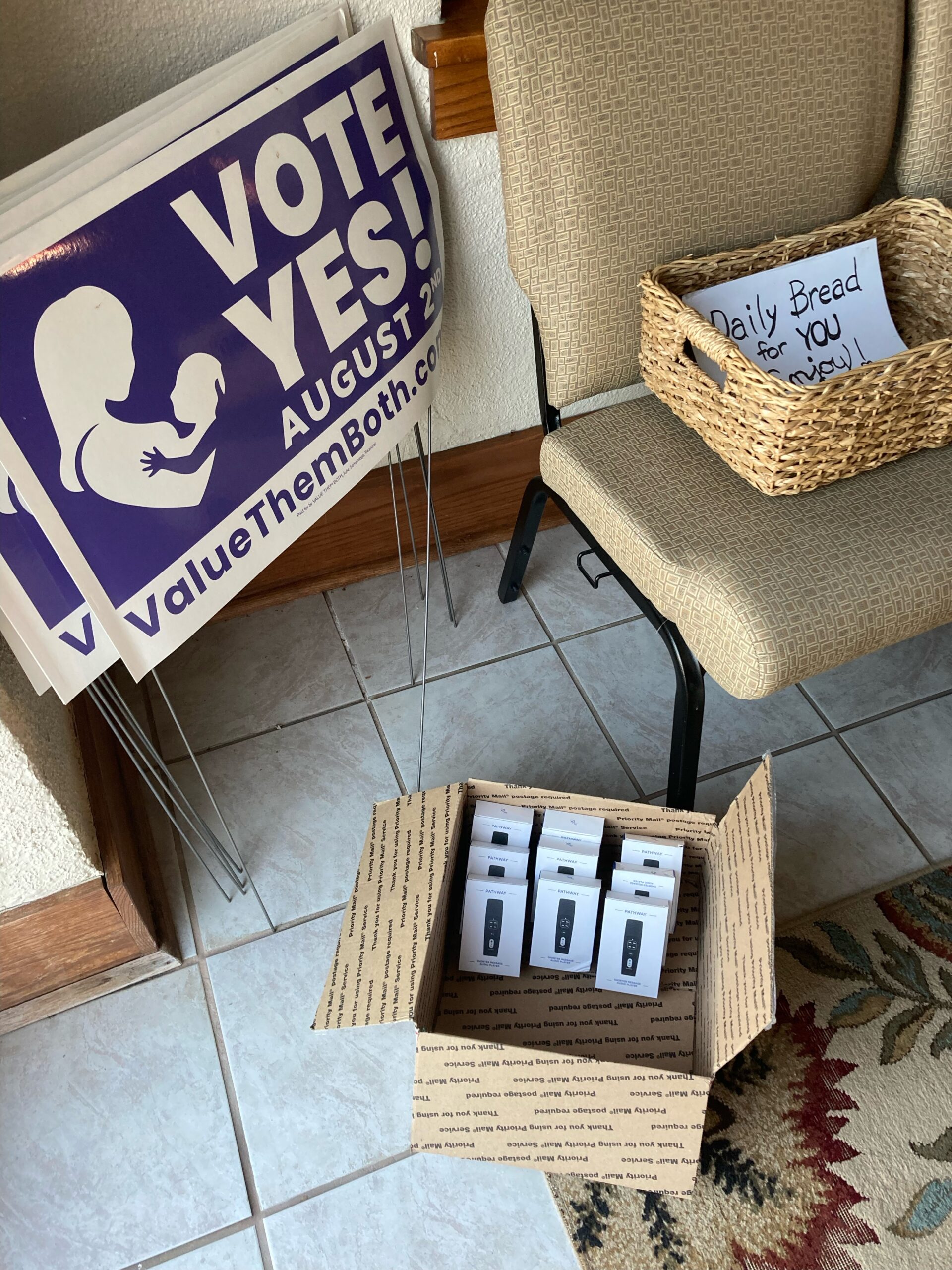 Reaching People Around the World – and Right at Home
Currently, First Baptist Church orders boxes of 50 Pathway players at a time. However, it all started with a single player. A few years ago, Mike ordered a Solar Bible Bus from audiobibles.com for his own personal studies. As he used his audio Bible and learned more about the many types of players MegaVoice makes, he began to realize that these devices could be an important tool for the Zambian missionaries his church sponsors. First Baptist ordered players loaded with Scriptures and teaching tools in the Lozi language to serve Zambian believers in remote villages with limited access to electricity.
Mike began to wonder: Could his church use these players for their own local evangelism efforts?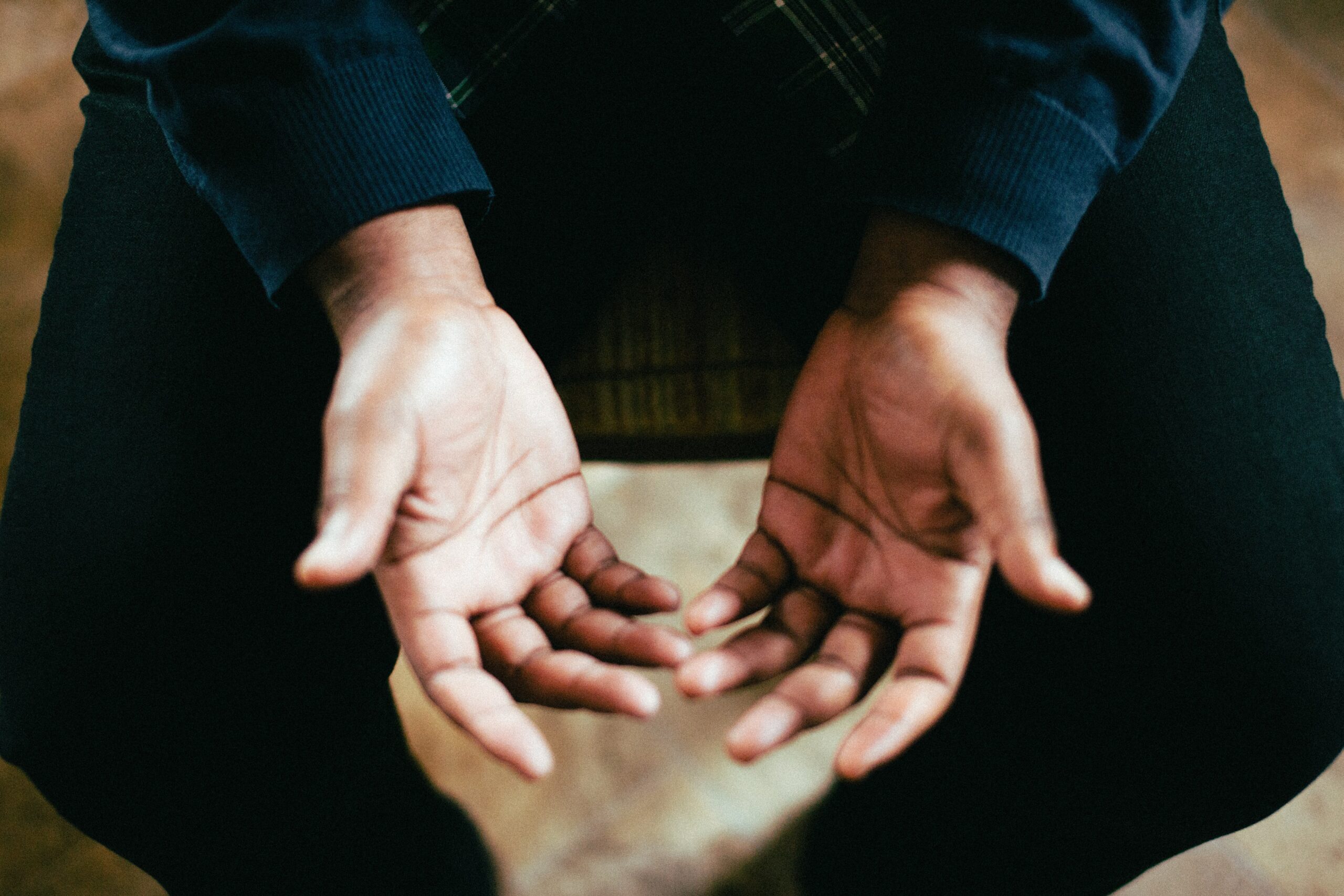 Pathway Players + One Simple, Engaging Request
Unfortunately, the word 'evangelism' has negative connotations for younger generations. Evangelistic efforts marked by anger, pride, or intrusion have turned many people away from the life-changing story of Jesus. Yet, as believers, we know that we are called to share our faith with the world. This puts most of us in a difficult position, and creative approaches are needed.
As a church leader, Pastor Mike understands this tension all too well. "Folks are apprehensive about evangelism," he shared. "They might have big questions that are difficult to examine if there's not a lot of time or if a relationship hasn't been established yet." He needed an engaging way to introduce seekers to the big picture of the Bible.
After consulting with a MegaVoice team member, Pastor Mike ordered a dozen Pathway players loaded with "God's Story: From Creation to Eternity", "The Story of Jesus", the New Testament, and the Psalms and Proverbs. With these audio selections, a small Pathway player can provide an overview of the whole Bible from Genesis to Revelation. This introduction to the overall narrative of the Bible is powerful.
Pastor Mike began to pray for opportunities to give these players away. As he met people with big questions or big problems, he would spend five minutes teaching the recipient how to navigate through the tracks on the Pathway, and end with a simple request: "All I ask is that you just listen." This gift and this request would prove to be an effective way to introduce people to Jesus. In fact, it enables people to do so without coercion or awkwardness.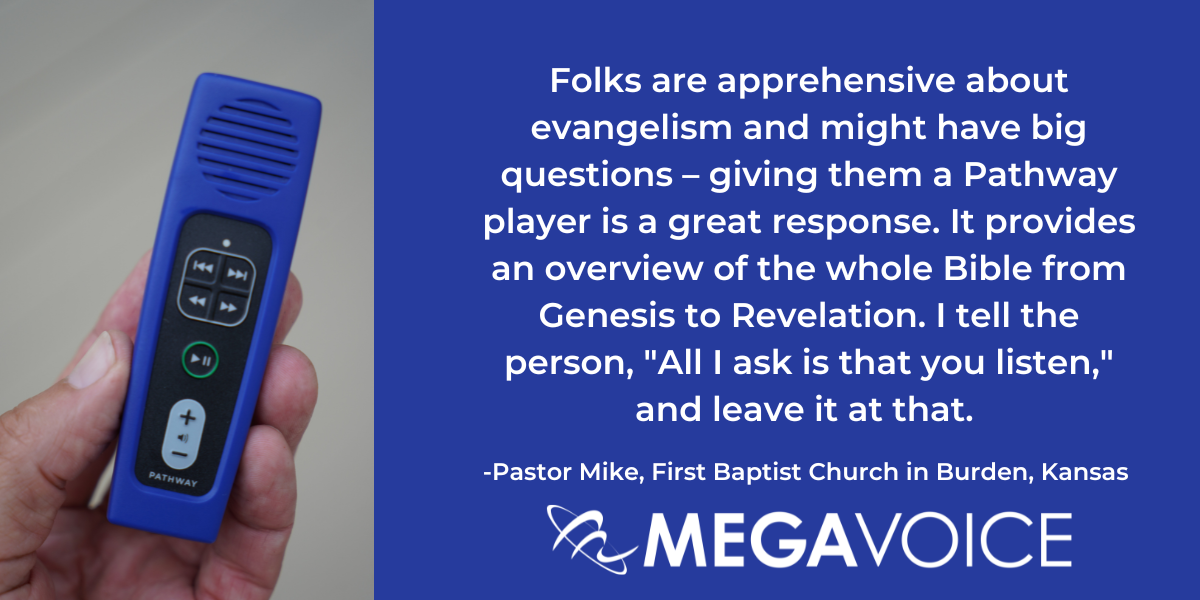 Slowly but surely, that unassuming box of players by the door of First Baptist Church has inspired the congregation to share their faith with confidence. After their initial order of 12 players, the church ordered 25 more, and now they order 50 at a time. Pastor Mike has also had the opportunity to introduce the players to the staff at a special needs facility where he led weekly church services.
The staff listened through their own players. Then they helped Pastor Mike determine which of the people with disabilities would most benefit from players of their own. This led to the decision to invest in an Envision Bible for a young deaf woman named Jennifer. "This girl who has missed out on a lot of Scripture will now have the whole counsel of God available to her," said Pastor Mike.
Above all, God's Word has the power to transform and mature us. When we share it with others, however feeble or inadequate we may feel, we can trust that God is working through our willingness. As Pastor Mike said at the end of his interview, "Right testimony is not what we're doing, but what God is doing through us."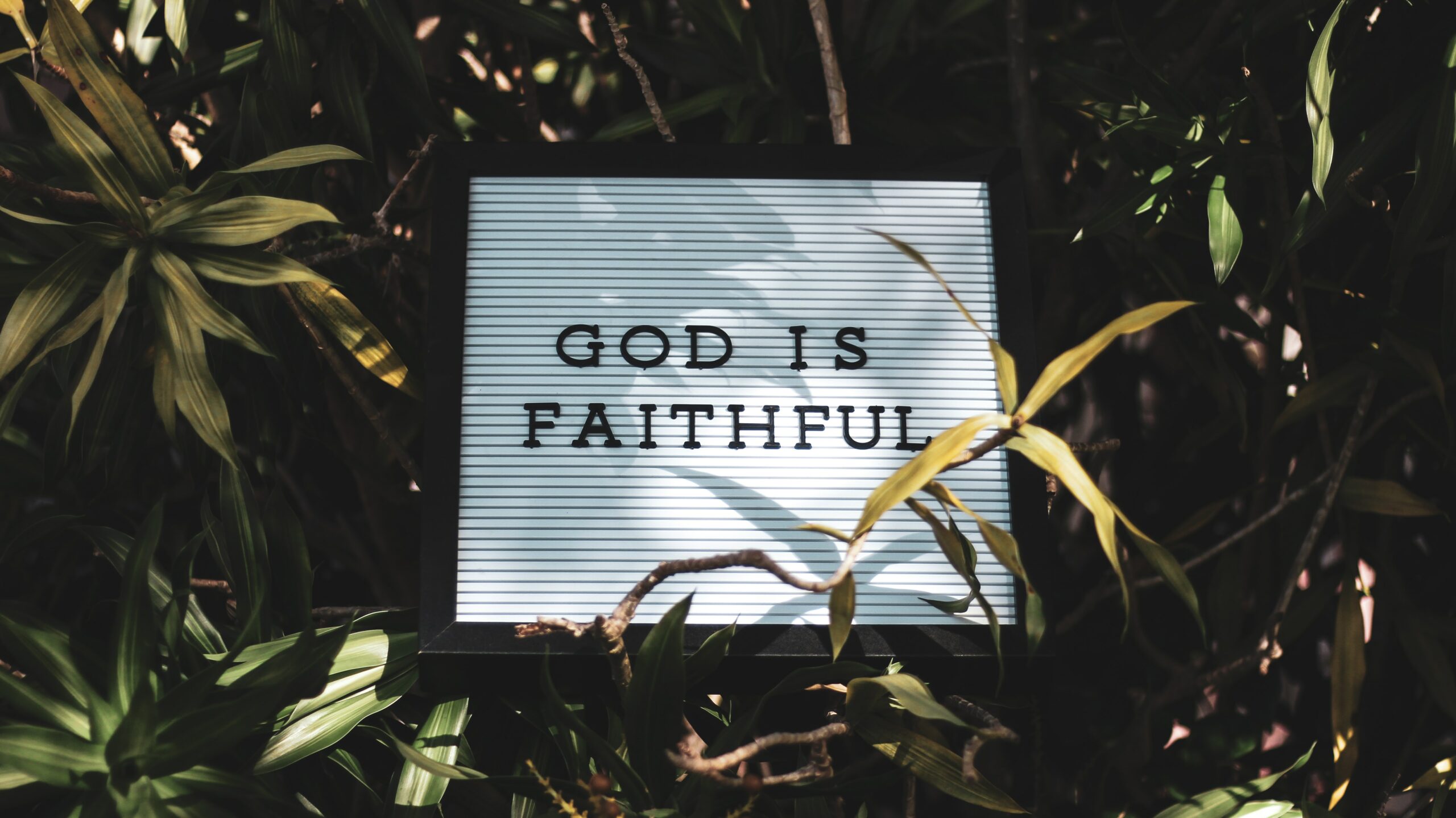 Don't miss any future blog posts or news from MegaVoice.
Click below to subscribe to our email lists – you'll automatically receive a 10% discount code for your next order when you do!
Subscribe
If you visit First Baptist Church in Burden, Kansas, you might notice a shipping box on the floor by the front entrance. It's the latest shipment of MegaVoice Pathway players purchased by the church for anyone to use or share....

26 July, 2022

How could they reach people who are not yet Christians? Team members from MegaVoice introduced Tim to the Pathway Player. It was smaller, simpler, and cheaper. And it was perfect for the initiative that Tim had in mind.  ...

14 October, 2022

This Easter, we celebrate Jesus' heart for reaching women with stories of lives impacted by MegaVoice audio Bibles around the world....

15 April, 2022