How to Support Deaf Ministries [Infographic]
Deaf Ministries – Reaching the Unreached
98% of deaf people have never heard the Gospel. Often faced with exclusion and mistreatment, deaf people need the love and affirmation of Jesus communicated in their heart language. Sadly, sign languages have only recently been recognized as the complex, legitimate languages they truly are.
While there are approximately 300 unique sign languages in the world, not a single one has a full Bible translation yet. This infographic shows you how to support Deaf ministries in your community and around the world.
How to Support Deaf Ministries [Infographic]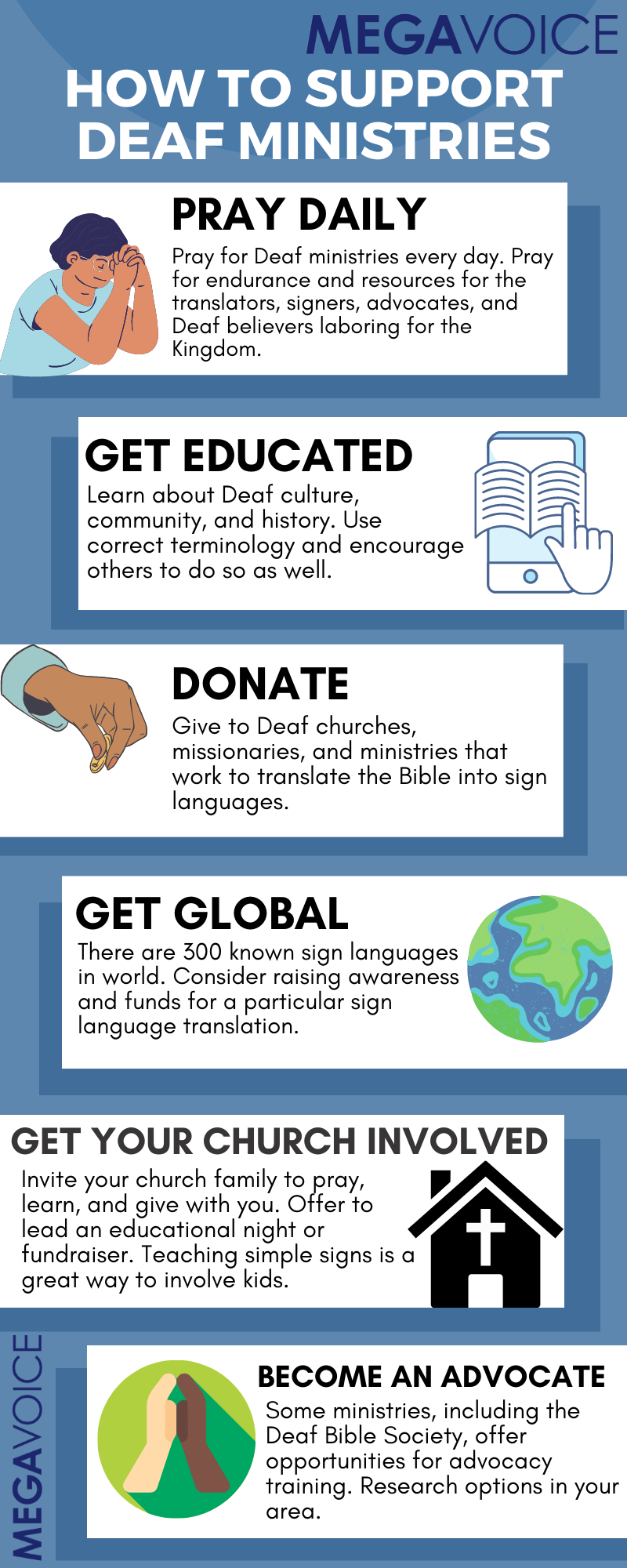 Pray Daily.
Pray for Deaf ministries every day. We can pray for endurance and resources for the translators, signers, advocates, and Deaf believers laboring for the Kingdom. In their excellent 14-Day Prayer Journey, the Deaf Bible Society writes, "Throughout the world, Deaf people are often cast out of their families and communities, physically and emotionally abused, and taught false doctrine about the Bible. Pray that they learn the truth about God's love for them."
Get Educated.
Learn about Deaf culture, community, and history. Let's use correct terminology and encourage others to do so as well. When the movie CODA won Best Picture at the Oscars this year, it represented a big step forward in awareness of Deaf culture. However, misinformation and stigma still abounds around the world. The National Association of the Deaf provides up-to-date information regarding a variety of Deaf issues. Looking for a simple starting point? Always use a Deaf individual's preferred terminology when communicating with them.
Donate.
Consider giving to Deaf churches, missionaries, and ministries that work to translate the Bible into sign languages. Check out these organizations working in a variety of contexts:
Get Global.
There are approximately 300 known sign languages in the world. Consider raising awareness and funds for a particular sign language translation. This work may require more networking and research than some of the other ideas introduced here. Look to your circle of Christian contacts and the Deaf community in your area to find specific people you can pray for, support, and encourage.
Get Your Church Involved.
Invite your church family to pray, learn, and give with you. Offer to lead an educational night or fundraiser. Involve kids by teaching simple signs. The Christian Society for the Deaf offers free resources for teaching ASL (American Sign Language) to kids in a ministry context.
If your church doesn't have any Deaf members or Deaf programs in place, consider changing that! Offer sign language interpreting during church services and let your community know that your church welcomes and affirms Deaf visitors.
Become An Advocate.
Some ministries, including the Deaf Bible Society and the Deaf Millennial Project, offer opportunities for advocacy training. Research options in your area if you're interested in a more formal service role.
For decades, MegaVoice audio Bibles have served the needs of blind people and people with low vision around the world. Our passion for reaching the unreached inspired us to develop a dedicated Bible specifically for Deaf and hard of hearing people as well. This June we're excited to announce the launch of the Envision Bible. Rob Myers, President/CEO of DOOR International, shared why this device means so much in the pursuit of Deaf mission work: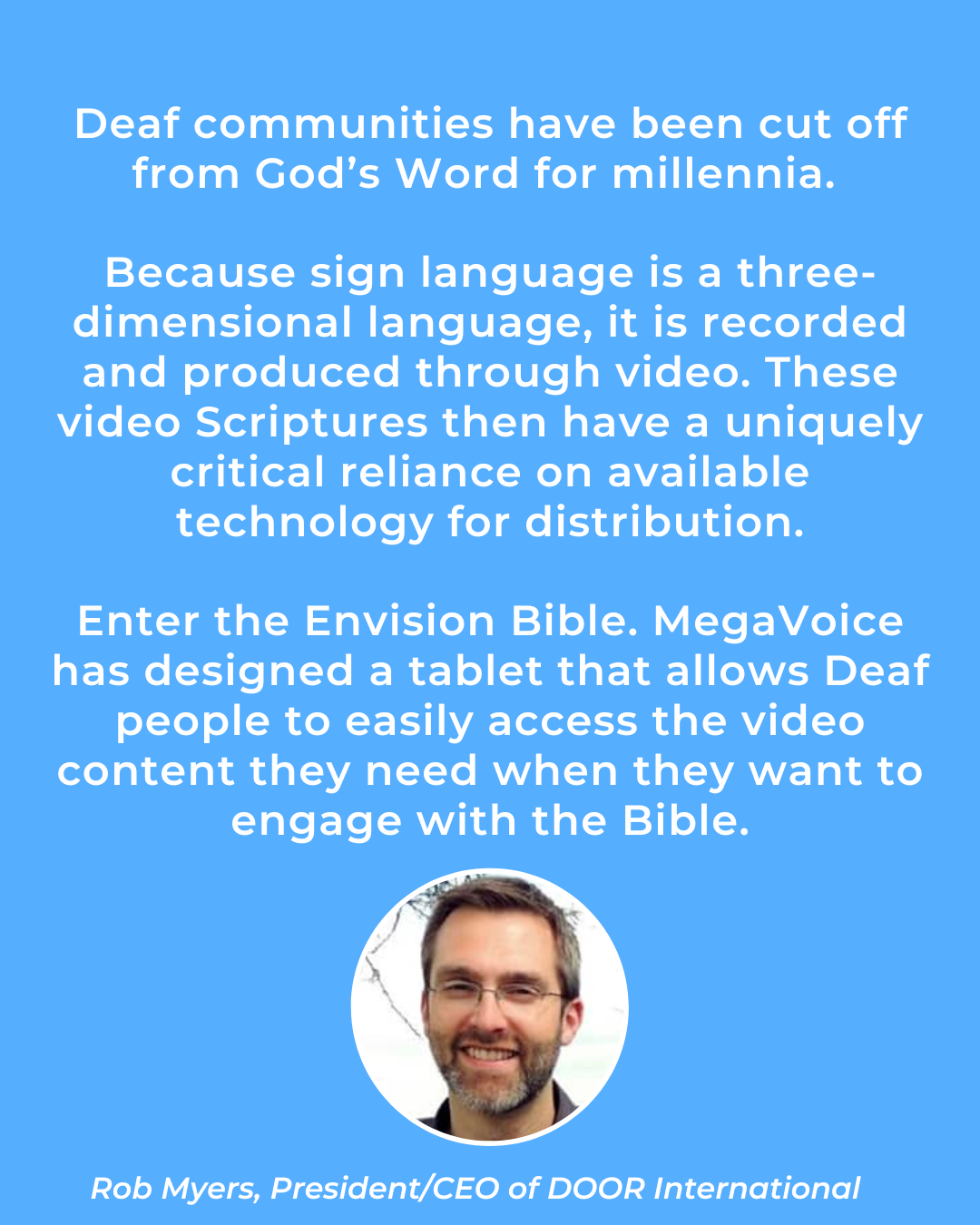 Learn More About the Envision Bible
As we seek to reach the Deaf, it's important to keep the concept of "nothing about us without us" in mind. Let's look for organizations that employ Deaf leadership and center the Deaf experience. Above all else, let's work to develop relationships with Deaf people and prioritize understanding and loving them.
In this way, we can emulate Jesus who, in a culture than shunned and judged deaf people, loved and uplifted them. While the passage in Mark 7 about Jesus healing the deaf and mute man has complicated implications, we are encouraged by this interpretation from Jeremy Parks:
"I know that Jesus did something in a moment for that man that He has also done for the Deaf world over centuries: He gave membership in a community, a place to fit, and a way to know Him."
May we each seek to do the same in ways that are affirming and relational!
If you visit First Baptist Church in Burden, Kansas, you might notice a shipping box on the floor by the front entrance. It's the latest shipment of MegaVoice Pathway players purchased by the church for anyone to use or share....

26 July, 2022

How could they reach people who are not yet Christians? Team members from MegaVoice introduced Tim to the Pathway Player. It was smaller, simpler, and cheaper. And it was perfect for the initiative that Tim had in mind.  ...

14 October, 2022

This Easter, we celebrate Jesus' heart for reaching women with stories of lives impacted by MegaVoice audio Bibles around the world....

15 April, 2022