Contagious Hope
Spreading the Gospel during a global pandemic
As our world continues to grapple with the implications of COVID-19, Evangelical organizations are having to find new, contactless ways of outreach. In places like hospitals and elderly care facilities, both caregivers and care receivers are facing immense spiritual, emotional, and physical oppression.
One church in Houston decided to work with the Digital Bible Society and do something about it.
120 English and 46 Spanish audio Bibles were delivered to a local Houston hospital (along with a number of other items) for health care workers and patients. This hospital, like almost all medical care facilities across the nation, prohibits visitors so patients face long hours in solitude. Some are even spending their last hours on earth alone, away from loved ones.
MegaVoice Audio Bibles are bringing the comfort of scripture without the need for WiFi, cell reception, Bluetooth, or even a wall outlet. They are simply and consistently providing the Bible through audio. Unlike paper Bibles, they can be sanitized to protect the most vulnerable.
In places like this Houston hospital, that kind of access can make a world of difference for both patients and caregivers.
At the beginning of the pandemic, medical centers had to sprint to adapt. As time passes, that adrenaline fades and the marathonic nature of our new normal very quickly becomes evident. And takes its toll on our health workers.
Medical professionals have very specific requirements when it comes to bringing religion or spiritualism in their workplace. For Believing medical professionals, this can feel like an added weight.
When other Believers outside the medical field donate audio Bibles to be placed with a patient under care, they are not only ministering to the patient but to every single healthcare worker that interacts with that patient.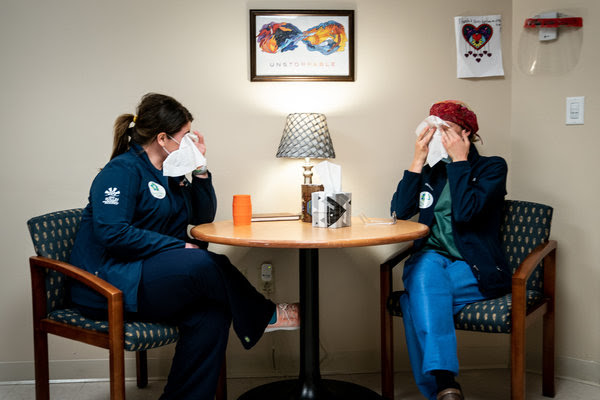 Christina Burke, above right, an I.C.U. nurse, and her peer counselor Bridget Ryan.
Photo credit: Erin Schaff/The New York Times
We are all searching for ways to steward our time and resources during this season of global uncertainty.
The Founding Fathers and Mothers of our faith walked through pandemics and, to the shock and surprise of their oppressors, the Christian faith actually spread faster and wider in the midst of hardship.
The difference: their faithfulness. That faithfulness became their legacy. What will our legacy be in the midst of the COVID-19 pandemic? What if we aimed to put an audio Bible in every hospital room in America?
Together, we can make this happen.
LET'S MAKE THIS HAPPEN